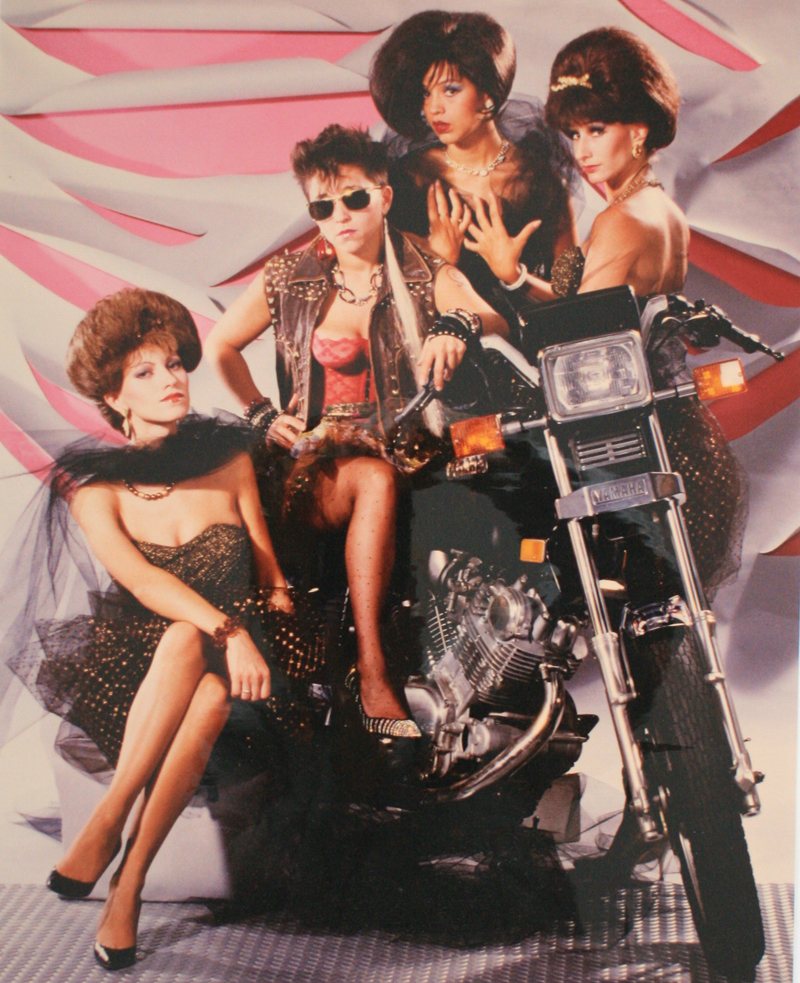 Performance art at its finest, it all started in the early '80s when Hillary launched a music career as "ANGEL" who, supposedly while serving time in county jail, and inspired by the old shows on TV, put together a band.

She picked three other inmates to be her backup singers and as soon as they were paroled, the jailbirds-turned-songbirds became Angel and the Reruns—the All Girl, all Ex-Con band.

They recorded what became a cult hit single, which Hillary co-wrote with musician Miriam Cutler. Hillary started her own record label, selling Angel's records out of her own living room until she got a distributor. As In Touch Magazine said: "Even without a major label they have managed to get one of their recordings onto the charts all around the country."

"Buffy Come Back," Angel's anti-drug ode to Buffy from the '60s TV show Family Affair whose portrayer sadly overdosed at the age of 15, became an instant hit, rising to the number one requested song on L.A.'s famed radio station KROQ, and staying there for over 5 months.

The song soon got national and international airplay as did the other side of the 45, "Beaver Cleaver Fever," which the band performed on various television appearances (Dance Fever, Thicke of the Night) because the networks deemed "Buffy Come Back" too controversial.
Featured in scores of magazine and newspaper articles, as well as on TV news, everyone bought and reported this story that Hillary had totally manufactured.

Angel and the Reruns performed live in famous '80s punk clubs throughout Los Angeles, and in addition to their TV appearances, were featured in Tom Hank's '80s classic film Bachelor Party, with two songs on the soundtrack album.

The band also had a song featured in the movie Grandview USA, with Patrick Swayze and Jamie Lee Curtis.

They received rave reviews including:
"Move over Go-Go's. Los Angeles seems to be the perfect spawning ground for all-girl groups who have a tendency to bullet to the top." —In Touch Magazine

"Campy and fun." —Los Angles Reader

"Angel and the Reruns… the hot new rock group…climbing the charts across the nation."  —LA Herald Examiner

"This record overflows with camp humor." —L.A. City College Newspaper
(who gave "Buffy Come Back" an A grade while in the same issue, Michael Jackson's "Thriller," one of the highest-selling albums of all time, received just a B +!)